Seared Beef with Flatbreads
Nici demonstrates how to showcase juicy NZ Beef with delicious homemade flatbreads.
Serves 4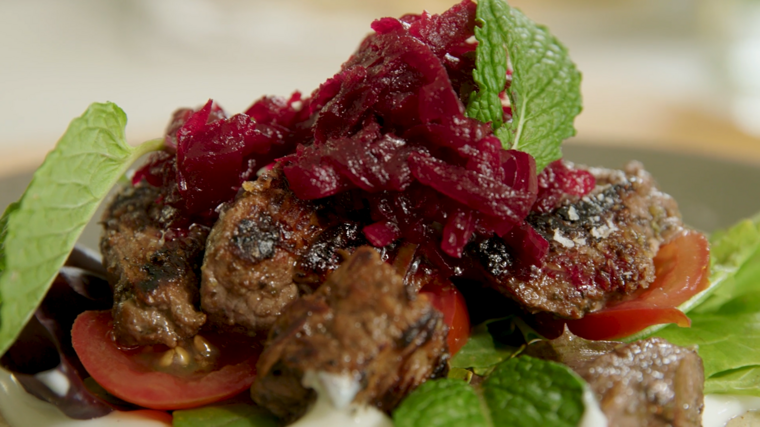 Ingredients
This is a fabulous and sociable meal, where everyone builds their own yummy flatbread sandwich and eat it with their hands!
500g cubed beef (rump) or venison,
2 tsps dried oregano
1 tsp salt and ½ tsp freshly ground black pepper
1 tsp lemon zest
2 tbsps olive oil
Splash of red wine
Chutney to serve
Flatbreads - homemade or store-bought
Method
Marinate meat in oregano, seasoning, zest and olive oil.
Heat a pan to medium-hot, add olive oil, heat, then add meat and sear until cooked. Best way to do this is to leave it for 3-4 minutes until well-browned on first side, then toss and cook for another 1-2 minutes or until cooked to med-rare. Splash in the wine and cook off. Alternatively, the beef or venison can be cooked on a BBQ. Rest for 15 minutes.
Serve chunks of meat on flatbread spread with feta whip and topped with beetroot relish.

Homemade Flatbreads
Store-bought pita is fine but you won't know yourself once you try homemade.
Makes 8–10 flatbreads
1 teaspoon honey
1 teaspoon active dried yeast granules
¾ cup warm water
3 tablespoons olive oil
2 cups plain or high-grade flour

Method
In a medium-sized bowl, combine the honey and yeast with the warm water. Leave until the mixture froths (approximately 5 minutes).
Pour in the olive oil and flour, mixing with a knife, then turning out to knead to a soft dough on a floured bench.
Lightly oil the bowl it came from and return dough to it, cover with a plastic bag and put it somewhere warm to double in size (approximately 30–60 minutes).
Once risen, gently turn out and divide into 8–10 pieces. Roll into balls. Flatten each with your palm then dust with flour and roll each out to a 10–12cm disc. Leave to rest for 15 minutes.
Heat a heavy-based frying pan on a medium heat and dry-fry each bread, flipping over when dimples appear and the cooked side has freckles of colour (don't let it brown too much). Flip and cook second side. Stack and keep warm, under a tea towel, until required.