Quail Egg Nicoise Salad
Award-winning chef Dariush puts a kiwi twist on a classic salad.
Serves 4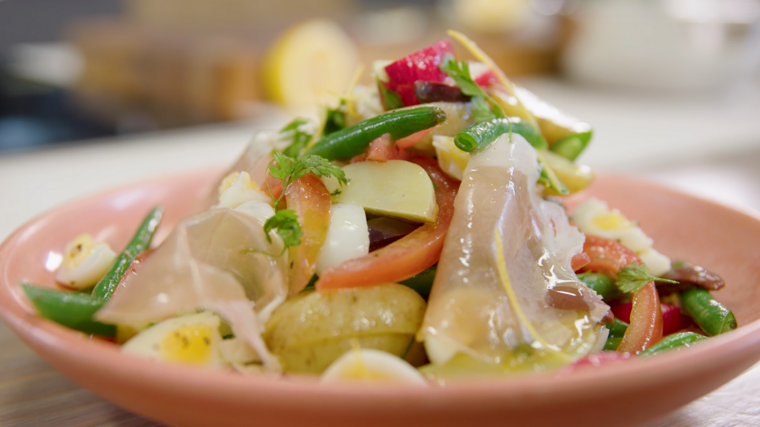 Ingredients
handful green beans, stemmed
8 boiled quail eggs
30g lonzo, sliced (or substitute with bacon)
5–6 baby potatoes, boiled
1 tomato
100 g Kalamata olives
handful chervil
Handful picked parsley
juice of ½ lemon
Good olive oil
Method
Bring a large pot of salted water to the boil. Add the green beans for about 45 seconds, until they're just cooked. Refresh the beans in iced water to stop them cooking. When cool, cut the beans in half on a sharp bias.
Cut the boiled eggs and boiled potatoes into halves or wedges. Remove the seeds from the tomato (you can reserve them to use in braises or sauces) and cut the tomato into strips.
To a mixing bowl, add the beans, olives, potatoes and tomato, and season to taste with flaky salt and freshly ground black pepper. Toss with extra-virgin olive oil and a few squeezes of lemon juice.
To Serve
Add most of the chervil and gently mix once more, but don't drown the chervil in oil. Garnish with the quail eggs, lonzo, and the last few sprigs of chervil. Serve with crusty French bread.