We're gearing up for Fieldays with a new look
We're gearing up for Fieldays with a new look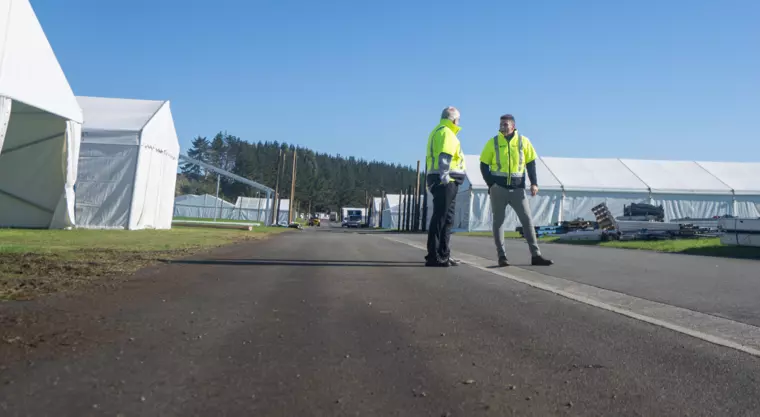 Friday 26 May 2023
Fieldays, the Southern Hemispheres' biggest agricultural annual event is thrilled to announce its newest sponsorship with Stoney Creek, a leading Kiwi owned and operated outdoor clothing brand.

As part of this three-year agreement, Stoney Creek will provide apparel for the entire Fieldays team, ensuring they are equipped with high-quality clothing that caters to their diverse roles. From country to corporate, Stoney Creek's range is perfectly suited to the conditions the Fieldays team face throughout the year, from boardroom meetings to property maintenance, and work on the ground during the busy four-day event.
Peter Nation, Chief Executive of the New Zealand National Fieldays Society, expressed his enthusiasm for this collaboration: "The relationship with Stoney Creek is ideal for Fieldays. Their brand offers versatile clothing designed to withstand the rigors of rural life, which aligns perfectly with our operations. Both brands share a deep connection to the outdoors, a strong sense of community, and a commitment to delivering excellence."
For Brent McConnell, owner of Stoney Creek, Fieldays holds a special place in his heart. Growing up on a farm in Taupiri, just north of Hamilton, McConnell and his three siblings considered a visit to Fieldays a rite of passage, one they never missed. He vividly remembers the mud, fog, queues, and the iconic Gallagher orange sticks. McConnell's journey in agriculture led him from contract milking cows to farm ownership. And somewhere along the way he met his wife Juanita, a rural banker with milking experience herself.
Farming, the outdoors, and a profound connection with the land run deep in the McConnell family's blood. This shared passion inspired the pair to establish the Stoney Creek brand, renowned for its commitment to innovation, quality, and maximizing outdoor experiences. Over the years, Stoney Creek has expanded its product range to cater to a wide range of needs, including workwear and safety/high visibility garments.
Stoney Creek's dedication to innovation has been a driving force behind the brand's growth and success. Brent, Juanita and their passionate team of staff continuously push the boundaries of technology and design in a competitive clothing industry. Recognising the comfort and functionality of Stoney Creek's outdoor clothing, customers began wearing their gear to the office. Responding to this demand, Stoney Creek launched a workwear range.
Stoney Creek has been a regular exhibitor at Fieldays with the early days seeing Brent's Kiwi ingenuity and 'number 8 wire thinking' helping the company be as resourceful as possible to make the most of the Fieldays experience and opportunity. One particular year he traded 8 calves with a neighbour for their old tennis court astroturf which was then repurposed as flooring for their site at Fieldays.
"and we towed a horse float to the grounds and pushed it into the tent to be the changing rooms," he says.
Stoney Creek has always made sure all available staff are at Fieldays every year, so they all get a good dose of rural culture, and it also works as a great depth of product knowledge on hand for visitors. The biggest staff numbers yet, over 50, will be on hand in June as it settles into its new Central precinct home which he describes as "a big jump for us".
"I would never have imagined that we would be able to join forces with Fieldays to secure our prime new site," he says. "It's humbling to be rubbing shoulders with the other companies next door there."
This sponsorship promises an exciting future as both brands continue to contribute to the success and growth of New Zealand's rural sector.