Fieldays Hauora Taiwhenua Health and Wellbeing Hub Triples in Size for 2022
Fieldays Hauora Taiwhenua Health and Wellbeing Hub Triples in Size for 2022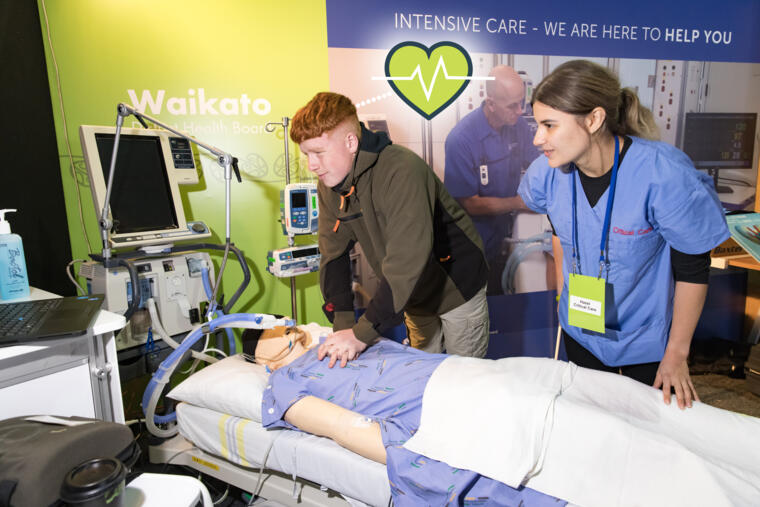 Due to massive demand, the Fieldays Hauora Taiwhenua Health and Wellbeing Hub has tripled in size for this year's event.
The health and wellbeing initiative has been a staple in the Southern Hemisphere's largest agricultural event for going on 5 years now and is an important pit stop for visitors every year. Fieldays works with Mobile Health to bring together a range of health experts and organisations in one area. Visitors can receive health advice and a range of checkups including blood pressure checks, blood sugar level testing, hepatitis C testing, and skin cancer spot checks among others. In 2021, participants in the hub gave over 722 free blood pressure checks, 334 kidney health checks and 673 skin spot checks, of which 54 were found to be suspicious and needed further testing. Participants in the hub can also connect visitors with support networks across the country for various health conditions.
Ensuring that rural communities have the same health and wellbeing opportunities as those that live in urban areas has always been a cornerstone for the NZ National Fieldays Society and CEO Peter Nation.
'It can be difficult to get people from our farming and rural communities in to see medical professionals and that's an issue that we really focus on when building this hub each year.'
'We've increased its size this year because there is so much interest in the information and checkups you can get. We're so pleased to see such a huge amount of interest from our visitors, and we're thrilled that the Hub has such a large footprint. Part of the growth is due to an increase in the Neurological section of the Hub, which sees several organisations situated together to focus on this key Health issue.'
"Too often we hear these stories of people in our rural communities not taking the time to see a doctor or health professional because they live so remotely or are too busy on the farm, to take time out to get medical advice. We believe that the most important asset on any farm are the people that work on it. So don't miss this opportunity this year. Make sure you're farm fit and get a check-up at Fieldays.'
"We suspect you will always make time for a WOF or service for your vehicles, now this is your turn for a WOF. We suspect quite a few our valued exhibitors may also take this opportunity to have a quick checkup."
The Fieldays Hauora Taiwhenua Health and Wellbeing Hub is a one-stop shop for everything related to physical and mental health and wellbeing. Visitors can expect to receive education about their health and wellbeing in a non-threatening and interactive way. This hub is located near the intersection of E Street and N Road at the event. Tickets to Fieldays are available at tickets.fieldays.co.nz/tickets/.
ABOUT FIELDAYS
Fieldays is based on a 114-hectare site at Mystery Creek 10 minutes from Hamilton and is the largest agricultural event in the Southern Hemisphere. Fieldays draws people from around the globe – both as exhibitors and visitors. Fieldays 2021 saw 132,776 people visit the event, generating $675M in sales revenue for New Zealand businesses.
Fieldays is run by New Zealand National Fieldays Society, a charitable organisation founded in 1968 for the purpose of advancing the primary industries.
The New Zealand National Fieldays Society thanks their key partners Hyundai, Ministry of Primary Industries, and Vodafone for their continued support.
For more information head to www.fieldays.co.nz.